Mera hoardings is a outdoor advertising agency in India. We Listed in Top Hoarding advertising Agency.

Merahoardings.com Is An Online Marketplace For Outdoor Advertising. Our Programmatic Advertising Is The Process Of Automating The Buying And Selling Of Hoardings Ad Inventory In Real-Time Through Our Website And Mobile App Platforms. Programmatic Billboard Advertising Enables Brands Or Agencies To Purchase Ad Impressions On Publisher Sites Or Apps Within Milliseconds Through A Classy Ecosystem. It Has Been Designed As An Essential Tool For Billboard Advertising Space Buyers, Media Owners, And Outdoor Advertising Agencies. Mera Hoardings Aggregate Outdoor Media Inventory And Facilitate A Media Plan For Billboard Advertising. It's India's First Online Marketplace for  Out-Of-Home Media Industry, And Keeps the Outdoor Media Booking Environment Impartial and Neutral.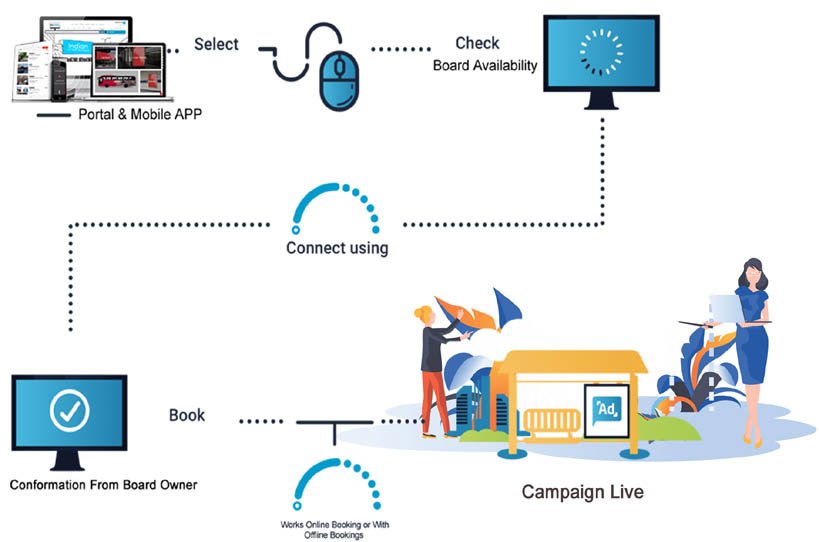 Merahoardings.com is World's First Out of Home AdTech Startup Recognized By Government of India under the Startup India Initiative of (DPIIT). We have the Widest Assortment of 90,000+ Hoardings or Billboards, Across 25000+ Diverse Outdoor Media Owners from number of Locations, Towns, States and Hoarding Advertising Companies.
Start-Up in 2015, We are Focused Upon Simplifying The Planning, Booking And Execution for Outdoor Advertising and Boosting Its Efficiency And Connectivity. Our Online Platform for Advertisements Booking Powers Some of the Biggest Outdoor Media Owners, Both in the India and Abroad, and we're Growing All The Time. Our Desktop & Mobile APP Marketplace Platforms Supercharges their Sales and Helps Manage Outdoor Inventory to let our Media Owners Effectively Connect to New Markets. In short, we're Bringing this Traditionally Offline OOH Industry into a New Era of Digital Age.
Mera Hoardings Android and IOS Mobile APP + OOH Integration is a Result of Extensive Industry Research and HelloooH Team's Vast Experience in Outdoor Advertising, Marketing and Information Technology.
For Outdoor Media Buyers, Mera Hoardings Provides a Streamlined Interface that Allows Booking of an Hoarding Advertising By any of the Multiple Media Owners with Just a Few Clicks of a Mouse. Customers Can Identify The Best Price And Audience Reach Combinations, Filtered By Demographics, Location, and Negotiate Pricing In Real-Time.
For Media Owners (Hoarding Companies), Mera Hoardings Facilitates an Instant Contact in Between Regional or National Outdoor Media Buyers and Advertising Agencies. Hoarding Advertising Companies have Complete Control Over their Outdoor Media Inventory and can Achieve Optimal Pricing by Negotiating Rates in an Impartial Trading Environment.
Outdoor Advertising Agencies Benefit from Consolidating an Entire Outdoor Media Campaign Planning Process, Using the Platform's Continually Updated Database. Administrative Tasks Such As Outdoor Inventory Management, Booking Of Advertising Space And Time Requirements Associated With This Process Are Streamlined And Optimized Considerably.
Our Online Buying of Advertisement Services Play An Active Role In Disseminating Information For Our Customers. With Our Marketplace Services, The Buyers' Target Audiences Stay Informed Over Their Products, Services And Related Activities. This Is Enabled Through Various Outdoor Media Implements, Such As Hoardings, Billboards, Unipoles, Flyover Spans, Gantries, Arches, Road Medians, DooH,  Bus Shelters, Train Advertising, Bus Branding, Auto or Cab Moving Ads and Metro Pillar Advertising etc.
Outdoor Advertising Mobile APP
Mera Hoardings is focused upon simplifying the planning, booking, and execution of outdoor advertising and boosting its efficiency and connectivity. Our products of connect online platforms for hoarding advertisements booking powers some of the big & small outdoor media owners, both in India and abroad and we're growing all the time. Our mobile app marketplace platform supercharges their sales and helps manage outdoor inventory to let our media owners effectively connect to new markets. In short, we're bringing this traditionally offline advertising industry into a new era of digital age.
Download Mera Hoardings Mobile APP
MEET OUR CLIENTS
WE WORK FOR THEM
We are happy to announce our new association with Mera Hoardings. We are looking forward to work with them.
Merahoardings is a great thought - it allowed us to hand-select advertising space at a very reasonable price in exactly the locations we wanted. For launching new Events or generally raising awareness of our Programmes, it is ideal.
The Creativity and Energy of these guys and this company is contingence...
With MeraHoardings We Were Able To Easily Target Our Advertising Campaign Using the Right Boards for Promote Sunrisers Team , Super Happy With Their Efficient Service.
I have been working with MeraHoardings from last 3 Years, our preferred advertising agency for my new food delivery Company..
"We are delighted to have found an agency during India vs Bangldesh Test Cricket, really excited about the concept and creative and are looking forward to continuing our truly strategic outdoor media partnership."
World's Most Of The Innovations Made By "China" Only But I Attractive Much Instantly Fell In Love With Merahoardings's Idea And Indian Platform.
In Prokabaddi league,  I gave the Telugu Titans Promotions at Merahoardings my brief I found them to be friendly, resourceful, quick in response  and cost effective and would have no hesitation recommending and using them again. Good job!
We've got a great working relationship with Merahoardings, their customer service is always fantastic and they constantly go out of their way to provide the best possible campaigns
Merahoardings is unlike any other outdoor agency. Where others are trying to catch up using technology and media, it was born out of them.
Getting exposure via outdoor advertising can be incredibly expensive. Mera Hoardings have a solution that is simple, speedy and cost effective, perfect for an  Sports Leagues like Premier Badminton League
Trustworthy, Fast and Efficient. Look forward to future business..
Merahoardings.com diversity means more than a Different website it meets lots of a different people which is going for a community..
The Creativity of Merahordings.com has No Limits..
OUR MISSION:
Our Mission Is To Connect All Global Outdoor Media And Make It Online And Universally Accessible For Future Growth Of Out of home Industry.
OUR VISION:
Delivering A Digitalized Platform For Outdoor Advertising Booking and OOH Advertising Campaigns Which Boosts Accessibility of Information To Speed Up And Refine The Process of Decision Making, Improve Sales And Foster Growth.
OUR VALUES:
Our People Enjoy A Personal Stake In Our Continued Success And Take Pride In What We Do.
2015 : Merahoardings.Com
2016: Mobile APP Launched
2017: Campaign Monitoring and Analytics
2018: Media Owners Marketplace APP
2019: Expansion All Over India
2020: Where We Are Going
2021: Exploring For Next Level
We are on the Way To
Outdoor Advertising Industry's  Hyderabadi Techie Guy Started Merahoardings.com with a dream of Connecting Indian Billboards Online and making advertising on billboards simple, easy and fast.
Worlds First Outdoor Advertising Booking IOS and Android Mobile APP Launched on the Hands of Pro Kabaddi Telugu Titans Team and become Official Outdoor Partner for Telugu Titans Team..
Cricket Campaign Taken us Into Next Level
India Vs Bangladesh Cricket Outdoor Campaign has taken us into next level in the market. Our Technology innovations like Outdoor Campaign Monitoring and Analytics Successfully Tested with this Campaign..
Multi vendor Mobile APP
Olympics World Champion Carolina Marin Launched Outdoor Advertising Marketplace IOS and Android Mobile which will Connects Media Owners and Buyers From Mobile APP
Operations Into 28 States
Merahoardings.com website and mobile app connecting 18 States of Outdoor Advertising Media Owners and Buyers has become Top Listed  Company.
Every Day Adding Media Owners Across the India, Handling Pan India Campaigns and Now Standing Best at what we expected
Cricket Legends T20 World Series
Road Safety World Series Organised by 5 Countries Cricketers,Sachin Tendulkar (India Legends), Brian Lara (West Indies Legends) Tillakaratne Dilshan (Sri Lanka Legends), Brett Lee (Australia Legends) and Jonty Rhodes (South Africa Legends) were the captains of their respective teams. Mera Hoardings is the official Outdoor Media Partner for this League and Executed outdoor Campaign across India. This Pan India Campaign and Branding listed us Top 3 Place in India
Tokyo Olympics
It has a been tough duration in the pandemic with a huge pause in the out-of-home industry. We all hope for a greater good coming up.
The Pan India campaign #cheer4india in Tokyo 2021 Olympics to shower our immense support to our Indian athletes. Mera Hoardings has joined hands with the Indian Olympic Association to unfurl an OOH campaign featuring portraits of Indian players at the Olympics, along with the tagline #CHEER4INDIA.
Our Official Partnership with Olympic Association and Pan India Outdoor campaign boosted us to the next level.
We have the business share which is  more than "9X Times of  Revenue", as compared to Where we Start in 2015.
We're Also Working On Technology Developments And Innovations In Out Of Home Industry, Ways To Improve How You Can Select A Campaign So That If You Don't Know What To Look For, Our Online Portals Will Help You Get The Campaign You Deserve, Delivered In The Right Locations, And At The Right Time.
Do you want to Sell Billboard Inventory In Online?
Servicing Any Size Business, Big or Small